PODCAST FOR YOUR BUSINESS
Studio 91 SA Podcasting Studio is a walk-in and walk-out option for business owners, groups and clubs or even individuals who wish to produce podcasts without all the technical hassles.
Out studio is set up to handle a host and three guests plus, the ability to take phone calls in real time. So, you can have a remote guest or co-host to your show.
We use the RodeCaster Pro for simplicity of operation and novice users will find it quick to pick up the basics with some help from our experienced team. Established users will also enjoy this unit's features and convenience.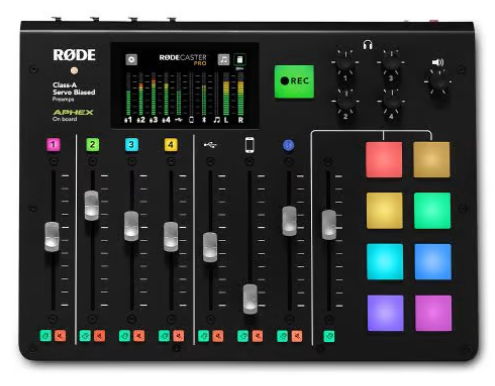 RodeCaster Pro Data
4 Microphone inputs
1 x USB Link
1 x Bluetooth phone connection
8 x Sound pads with 32 programmable sounds/pre records
Muting and pre-listen functions
4 x Individually controlled headphone outlets
Stereo output for speakers etc.
Multi-track recording ability
Takes micro SD Cards
A first rate piece of gear that will let you create a top quality podcast recording or live stream. You won't be disappointed with our studio.
What can I podcast about?
You can podcast about any topic you like. Subjects such as local events, current issues or perhaps products and shopping. Local clubs and groups might  podcast to interact with their members and followers. Podcasting is especially beneficial for businesses trying to engage with current customers while building community following by becoming an authority in the field you cover. People will think of you first if you have previously engaged them via your podcast.
Don't want to go on-air yourself? We can podcast for you!
(Photo: David Hales and Graeme Goodings at the desk in Studio 91 SA.)
Graeme and David have years of experience in broadcasting which they can bring to your podcast and promote your brand and image in the most professional manner possible. They can set up a podcast for you and train you in all the pro tips of presentation. David can recommend the gear you will need or we have equipment for hire at Studio 91 SA. We have a fully equipped studio should that be convenient for you. Just walk-in, walkout as its all set up for you and you just concentrate on the production.
We also produce many of our own video and podcasting shows for entertainment, training and education. You can see/listen to these via the OUR SHOWS menu above.
SOME OF OUR SHOWS

These are just a few. So check out the OUR SHOWS menu above for more!